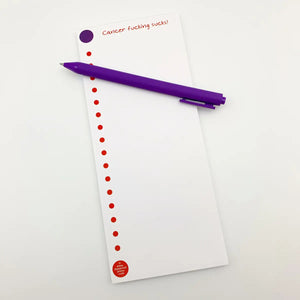 Everyone needs note paper to jot things down - phone numbers, shopping lists, preferred voltage setting for the next electro-shock therapy session.... Each of these Zippernut Press™ note pads includes a delicious little quippy snippet at the top to cause a little double-take for people who snoop over shoulders. The pad is gummed at the top for tear-and-share simplicity.
This pad's content: - Cancer fucking sucks!
Note pads are 3-5/8″ wide and 8-1/2″ tall, with 50 sheets per pad.
Pages are imprinted on the front and blank on the back. A white paperboard backer provides a smooth, firm writing surface to the very last sheet. A product label on the shrinkwrapped retail package includes a unique UPC barcode and paper content information (responsibly sourced and recycled, 10% post-consumer materials). Made in USA.
Zippernut Press™ makes a donation to cancer research for each sale of this item.